When you think of your wedding numerous things lingers. After getting married, you will realize it would had been there, you would have done that.It's really hard to be creative in a world where traditions are highly praised. Using same techniques again and again, what's it means? So, for a change if we create some changes in our tradition then what's wrong in that? Many of them may never accept the way but if you think change is appropriate then, here are some numerous ways through which you can see your wedding with a twist. So, check them out and add some of them at your wedding.
Blowing glitter instead of rice
When it comes to wedding,we try to follow all our tradition. But for a while, can you put your ritual a side and think of a wedding ceremony where you blow glitters instead of rice. Have you ever heard of such before? If this can be real, do you liked it?
Forego the traditional cake
Have you ever thought of such a beautiful cake on your wedding? You may have seen cheese cakes or other with simple decoration, which looked like t's a typical wedding cake. But for a change, wold like to get this cake on your big day? Wanna do something different than the usual things?
Entertain your Guest with Colors

I have a great idea for your wedding. Invite an artist at your wedding ceremony and ask him to sketch all the happenings in a single canvas. It will be a perfect gift for you both as well as different thrill for your guest. As they will also be a part of that painting and your memory. Don't you find it amazing?
Champagne Tower
Champagne is very common at wedding. But having a tower of champagne is something interesting. When you such a scene, won't you feel 'Wow! such a cool wedding'. You will, it's normal. Looking beyond the tradition can sometimes is good. It excites you and your life in every way.
Desert Walls
Imagine a stall of doughnuts, each having a different flavor. Such an amazing concept isn't it. You can pick the one you wish to have. You can't find this in your usual wedding? Do you? Not at all. Try something like this in your wedding and make a cute memory that you will always cherish.
Station not candy buffets
You can find candy in every wedding.In this wedding, if we keep the candy missing then, do you have any problem? This can be the step to do something else than the things you always do. Doing different things in your wedding can gives you lots of joy and happiness to your way. If you want, you can try.
Surprise wedding
Think of a wedding whose set-up look like get together place.Yes, dont get shocked. It sounds crazy as guest don't know where they are coming for. With that you can get hitched with your better-half. In a unusual way, are you ready to get married which you will never ever forget.
No Phone Allowed
Imagine wedding without selfies.Today without a click no events can be successful. How come this wedding is happening? It's because if the guest stays away from phone then they will completely enjoy the ceremony unless taking unnecessary photos.What's say?
Serve pre-game Cocktails
For the guest who arrived at your wedding need something divine, what's better than a ceremonial cocktail. With different flavors, they will enjoy the wedding. It's a way for refreshment. In each sip of cocktail, the love between the couples will be revealed. So, do you want a glass of cocktail???
Drinks
Have you ever think of a wedding only with iced tea, water and lemonade. Isn't it sound like a small community program menu? Trying quite different is what all matters. Such drinks are not classy but are good for you as well as others. Doing some changes can make you and wedding thrilling.
Dress Yourself as you wish
If you wish to get hitched in casuals then its up to you. It's not compulsory to be dressed in that same traditional wear, you can choose your attire freely by yourself. It's your wedding, you have all the rights to look good in what you wear, maybe the casuals or any other attire. What's your plan?
Eye-catching ceiling decoration
In every wedding, we see the ceiling and the whole place decorated with lights and glittered decoration. Forgetting all this, can you prepare your wedding with paper pom and tassels, it looks really beautiful. I guarantee you, with the decoration you will be in the ninth star for sure.
Unique Back drops

You can give everyone a visual treat if you use everything in a different way. From coffee filters to feathers or even colorful straws can appear beautiful. When lots of bottle are arranged in a presentable manner then it stands out of the box. Do something unique but in a appropriate direction.
Boutonniere Bar 
No one can ever feel great if in your wedding you get a frame full of beautiful flowers. Isn't it a beautiful surprise? All you adore the most are the flowers which freshens you up in every way. So like these varieties of orchids and other flowers blossom your big day adding your smile too.
Hire a mixologist 

With a mixologist, you can make fusion in your cocktail. In each flavor, you will get a new taste in a good way. Remember, put a note in each one so, the guests won't get confused.Trying this you will get a new thrill and will get a chance to remember it for rest of your life. Are you ready to create this on your wedding?
Have fun with food

Avoid all traditional rules.Opt for something that you have never seen in any wedding. Aren't you bored with same food served t your wedding? Then, why don't you choose Continental or Chinese theme? With some changes in the menu, you can charm your guest.What's your menu for your wedding?
Truck Food
Do what you enjoy and can be easily done. Like this truck food. You can assemble all your food for your guest can treat them differently within it. It's so cute. Away from traditional theme, it gives you a unusual feel. Wedding is one time ceremony, it should be out of the box isn't it?
All Edible Favors
For a wedding, you go with different edible favors.As we all want something that won't be left on the table after the event and nothing takes care of that like a tasty treat.Among them these lollipops are something special to have. Thus, delicious favors are loved by all. Don't forget to add them in your wedding.
Library Card Guest Book
Any brides would be looking for some creative wedding guest book designs isn't t? If so, you can pick this one as you see in the picture. This design is far better the traditional wedding cards. People gets attracted how your card seem. So, for me it is a perfect match for your wedding. Go for it.
Cute Passed Deserts
Deserts are the most important in every wedding. In every wedding, you got to see someone coming to you and passing deserts. But it has  different twist as you can see at the picture. We all want to do unusual stuffs in our wedding but we miss something. But now, be specific while organizing your wedding.Got it?
Shadow Photography

A picture on your wedding day is not a big deal. But what matters the most is how you have clicked. Try to go beyond the traditional way and choose something unique. Don't please others, just go with yourself . You can have a shadowy snap with your better half with some significance on to it. Isn't it a great idea?
Party to go Bags

When you invite your guest at your party go for something interesting. It's way to thank your guest. Get some cute and beautiful packaged bags filled with your love and affection for them. You can add some sweets to show your love towards their presence. They will make them feel great and lucky that they came.
Sparkler photography
Aren't you bored watching same poses for your wedding? If yes, then go for a different one. An unusual concept yet a lovely pictures of your big day. Do you like fireworks? If you can then you can create magic with that in your wedding photographs. Are you ready for the new journey???
Coffee-bar

Coffee can be anyone's cup of tea. But adding a bar to it, it goes to the next level. If you serve this at a wedding reception it looks so classy and chic. Trying apart from tradition is not a wrong thing, it's just the thinking. Traditional things does well but when we see beside them, we will see a new world. And it's nice.
Groom's Fave Liquor

In every occasion, a man needs to have liquor so, why not in is own wedding. It' s his last day to enjoy. Other day, he will have to do whatever his bride will order him, what's say? Without liquor, no party can start. With that, you got to see them dancing like no one is watching them. So, ladies be aware of these situations.
Press your Bouquet
It's an amazing idea to collect memories.Adding flowers used in your wedding s something you have never thought of. With that you can recall it later and feel great. In your wedding you can also do these thing in order to add more happiness in your way. Try this on your big day.
Touching of Lucite

If you love to see Lucite in different ways then here's something suitable for you. It's a Lucite beyond traditional one and includes a modern touch. It's on you how you prefer, with arrows- bars or love notes and so on. It depends upon what you choose. In every way it's a perfect thought for a wedding. Go for it.
In a Loving Memory
It's not necessary to have these tradition only after death. You can escape the traditional boundaries and different than this. For a wedding couple, can't you make something like this. It's totally a unique thing to do. What's your verdict about this unusual idea? Isn't it great?
Sky Diving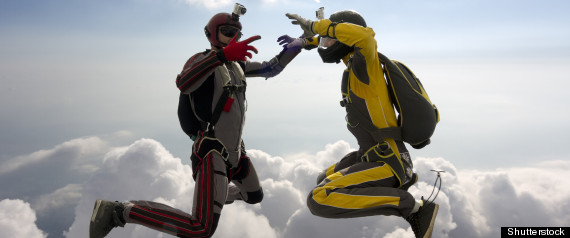 After you get married, usually bride and grooms bids in a car.If you wanna try something else you can use a helicopter. Then, jumping from the helicopter, you can go for sky diving, isn't it an adventurous thought?  If you liked it, then you too can go with this plan after your get married.
Internet memes
For a change, give prints of Internet memes to wedding couples so that they could carry it to aisle.So, at the reception, you can stick them all over the walls. In this way, you can create a wonderful environment. With that you can get a laughter therapy from the guests out there.And you can even add a lighthearted touch to the wedding celebration.
Drink reserving coaster
You all love these phrase saying, Please don't take my drink. I'm dancing.You can see your wedding dates and names which are available in a variety of colors. You can use them on your big day with a significant way. Do you wish to do this in your wedding ceremony?