Everyone choose unique way to express love to their soulmate. Some goes for  getting inked permanently with tattoos for their loved ones. It's easy to say "Will you marry me" and saying "Yes", but it needs  lot of guts to have these testimonials done on to your body. It is a proof that she/he has found their perfect match. Here,you can look out for 40 amazing designs and hope you will love them.
Thumb Print Hearts Tattoo
Tattoos of thumb printed heart signifies the love between you two. Just a symbol can express all your emotion you have for that. As a couple you both seems very lucky to have partners like this. Do you like it?
Cat and Dog Tattoo
You can't find any couple who never fights. It indicates the love behind all those small-small fights. With those fights, their relationship strengthen and they comes more closer to one another. If your bond is exactly like this, you can go for it.
You Complete Me Tattoo
Without one puzzle the other remain incomplete. In the same way, a couple is  imperfect when they are not together. This tattoo represents their love in between.Sounds great isn't it? You can give it a try.
Promises Tattoo
Promises are always to be kept. Once they're broken, the trust build in between you and your partner also fades. So, if you make it then stick to it. If you wanna make pinky promise for life, it's for you.
Infinity Tattoo
This tattoo signifies the unconditional love for one another. It emotes your deep love and feelings that are uncovered with the ink. Wanna get inked and express your love to your  guy, this one is so correct to have.
Anchor One Another Tattoo
Anchor reminds you that no matter how things are going on, you all need is to be optimistic. For couples, it indicates how important he is . It shows the impact he has in her life. If you are dedicated couple and want to something for each other then, you can get it done.
Birds Tattoo
Birds symbolizes peace.You need peace in your life isn't it? Are you passionate to get a tattoo for your loved ones? If yes, then have a look at this one, you both try it once, you will surely love it.
I'm your Peanut Butter and You're my Jelly Tattoo
While having a sandwich, you need both peanut butter and jelly. When one is missing, it taste somehow odd.In the same way, you are nothing without your partner. If you are sweet, your partner is spice of your life. Watch this tattoo, this is so cute.
Ying Yang Tattoo
This tattoo goes well with them who have different personality. But have one thing in common i.e. there heart and their soul. When they are connected with heart then, you don't need much. Like it?
Life-Line
Wanna hear how fast your partner's heart is beating for you. Have a look. It shows life line from your heart to his. Isn't it romantic? Do you feel like getting this tattoo then don't think much go for it.
Keep Me Grounded Tattoo
Are you happy in your relationship and wanna take it to next level? Then, it's a great idea to get inked with a tattoo which will make your relationship stronger. The above tattoo will keep you both grounded and happy. Think about it.
All is Full of Love Tattoo
When love is in the air you can get this especial tattoo done. It is something different and amazing. The feather at it's corners is adding a charm to it. Love birds come on, hurry up.
Everyday for our rest of our lives Tattoo
A lovely message for a loved one as it can be read only when the couple is together.When you think it's high time for doing something for your special ones Then, its suitable for you both. Take time.
Chained Hearts Tattoo
One heart connecting with the other with one another's name on them isn't this beautiful. When you are not together, looking at the tattoo you can recall each other and can feel good. I'm in love with this tattoo what about you?
Red Heart Tattoo
Wow! when you hold your partners hands your heart gets fixed. That is what this tattoo resembles. Simple but so tender on to your hands. Wondering to have it done? Don't wait just get it.
His & Her Tattoo
When you get attached emotionally to someone, you can easily do anything for that person. If its getting inked then it's not a big deal. These words are not just alphabets but are proof of their love on each other's hand.So,do you like it?
I ♥Him $ I♥Her.. Tattoo
Want to show your love to the world? Here is your best solution for you. You can make a tattoo which can speak in it's own . It's a wonderful way to confess your love for your partner that you♥ him and he ♥ you.
Love Birds Tattoo
Tattoo on wrist is simply great and it's seems complete only when both wrist are beside each other. All the love birds out there if you wanna get tattoo then this can be a good one.
Now You're My Whole Life….Tattoo
Saying you are my life or you are my world is quite easy. But writing those things on wrist for whole life is not a joke. So, if you think your partner means everything to you then you can have a look to the picture above.
Snoopy Tattoo
So adorable. I can't just keep my eye off from this tattoo. Isn't this cool? You can express your love towards him with this tattoo. Just wait and think of having such a lovy dovy tattoo.
Soulmate Tattoo
Are you serious about your relationship? Wanna do something together that can be remembered forever then why don't you have a tattoo done. Specially like this one, words doesn't complete without you both. It's looking really nice.
Tea and Cup Tattoo
The blend of cup and tea is looking amazing. Meanwhile, if your eyes are seeking for a tattoo for a couple then have a look at this combination,isn't it great? If you like it you can do it on your hands as well.
To Infinity and Beyond Tattoo
Tattoo signifies that the couple will do every singe thing together. Do you think you should go for it? Or wanna try something different. Think wisely as this tattoos will remain with you forever . Once you do it, you don't have place to regret.
Winged Hearts Tattoo
Hey, have a look at these winged heart tattooed on neck with your partner's name isn't it amazing? If you like it, then you can have it done. It seems really romantic. It's something, you can only do for your better half (lover).
Always With You Tattoo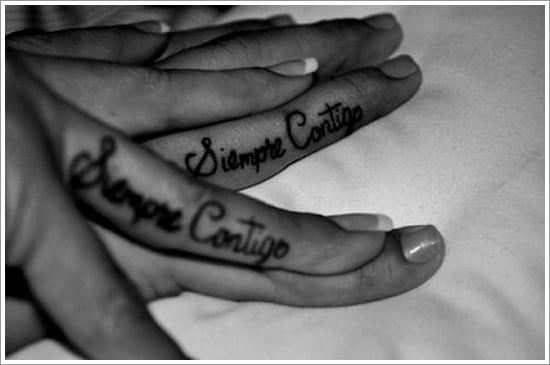 Tattoo in different language sounds interesting. It implies "Always with You".Those partner who are so in love that they can do anything for each other might think of this tattoo. As it's unique and it's meaning conveys the rest part.
Key and the Locked Heart Tattoo
Adorable tattoo showing that the locked heart has only one key and that's you my love. It's like when you are everything to someone, then you can plan about it. If you are ready, then get it done.
Bride and a Groom Tattoo
It can be perfect gift for the wedding or when you re serious for one another. As the tattoo on wrist for each other resembles your pure love. If you are married then you can plan for this tattoo. As it reveals your relationship after death too.
Love Tattoos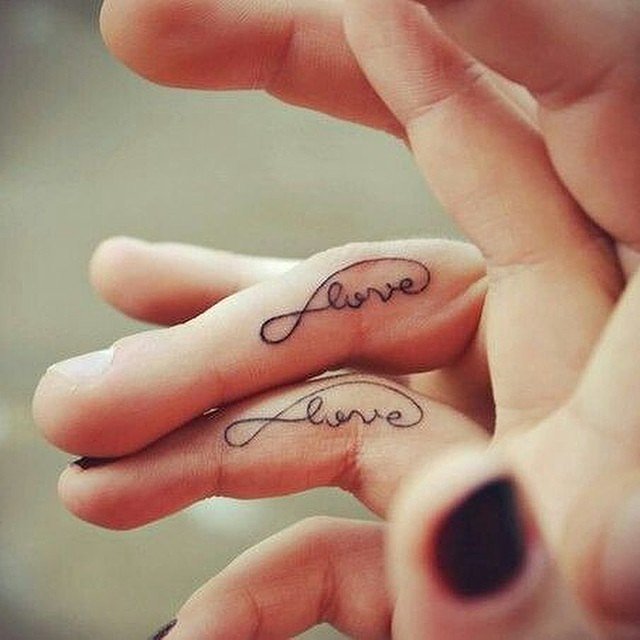 It's so beautiful.Words seems meaningless when you have a tattoo like this. It shows divine love between two of you.Do you think your love is beyond any boundaries then you can check this out. Simple yet very special for that special one.
Dream Catcher Tattoos
Dream catcher is the latest and famous design for you. Have a look at this design, you will surely get attracted towards it. It's so charming. Tattoo on back always look hot. When are you getting inked?
Music Notes Tattoo
Are you  both a passionate singer or love music? You can amaze your body with this tattoo. With this simple and adorable tattoo on wrist or ankle can make you feel lovable. If you liked it then go with this tattoo.
A quote on each other's back..Tattoos
We all love something that connect us from our loved ones. Being with each other for life is all we desire for.If that is written on your wrist or on your back then your happiness will reach at next level. Thus, be happy and do what you are satisfied in.
Skull Tattoos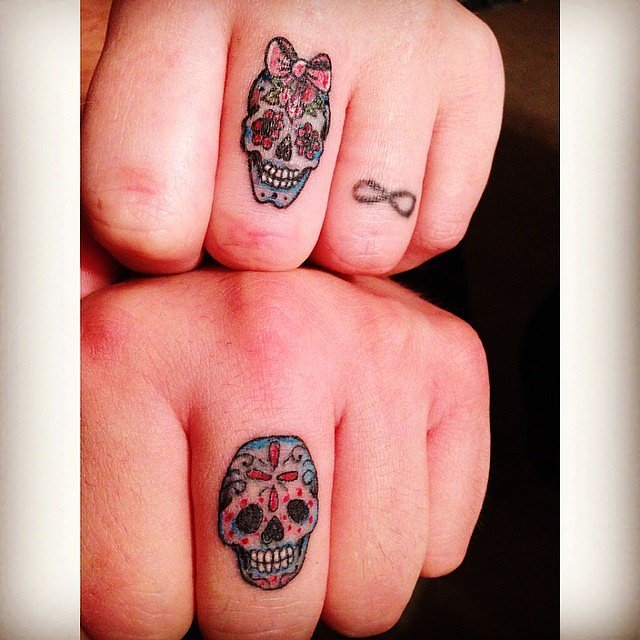 Well, have a glance at this couple tattoo, isn't it different? I personally, really liked it. Tattoo of skull on middle finger is appearing really cool. If you love these kinds of sketch then it would be a perfect choice for  you.
Nightmare before Christmas Tattoo
Do you believe in nightmare or are big fans of these Nightmare before Christmas? Then, you can opt for these design. They seem realistic and have a different sense of appeal than the others. If you prefer these kinds of tattoos, go for it.
Heart on Arm Tattoos
It's a nice and lovely tattoo which can be read only when, you two are together. If you are among those couple, lovey dovey one then no need to think just have it done. It's an amazing way to embrace your love for one another. So, show it with it.
Thick and Thin Tattoos
Your love for your partner doesn't count only on happy time but sad as well. This tattoo presents that, you will be together forever no matters how the situation are. When you both are with each other then problem becomes temporary. It won't come in between your relationship.
Till my dying day tattoo….
When you are serious about someone, you don't think beyond him. If your condition is like this and your loved one too makes you feels the same. Then you both can gift each other with this amazing lined tattoo. You can add these lines on your finger as well as on your wrist.
Frequency of your love tattoo
Love cannot be counted nor you can weight it. It can only only be felt. So, with this piece, you can just increase your love for one another. Do you like it? If yes, then quickly decide the day you are getting inked.
Simple Smiley Tattoo
An adorable tattoo on your fingers or on your hand can look lovely. This tattoo denotes your cute and bubbly relationship.Tattoo will connect you together as a one and it can help you to grow your bond stronger. So, tell me don't you think it's cute?
Serpent Heart Tattoo
As a symbol, serpent is not taken as good or reputed. But when it comes to couple, you can pick up any designs. You can get inked on what you choose to. So, give it a try. You might like it and can share it with your friends as well.
Cute Couple Tattoo
Look at this one, it's so beautiful. It has a simple design yet have a deep meaning though. The cuteness of this tattoo catches our eye and makes us to get obsessed towards it. Just for a second, feel it on to your hand and feel the joy…
As you can see varieties of couple tattoos and some of you may somehow related tattoos according to your situation. Each one is different and have a unique style to express his/her feeling towards another partner. Every time words are not enough so, we have to find other ways to show our love.One of them is getting inked. Just by looking at them, you will feel strong connection between you two. So, are you planning to get it done???