Stiletto nails are bold and glamorous. They are pointed at the tips. They are very long that's why in most of the cases nail seems to be fake. Some people have it naturally, as they adore its look. You can find numerous designs of stiletto nails and some of them are shown below. If you are interested then, choose yours.
Blue Nude Rhinestones Stiletto Nail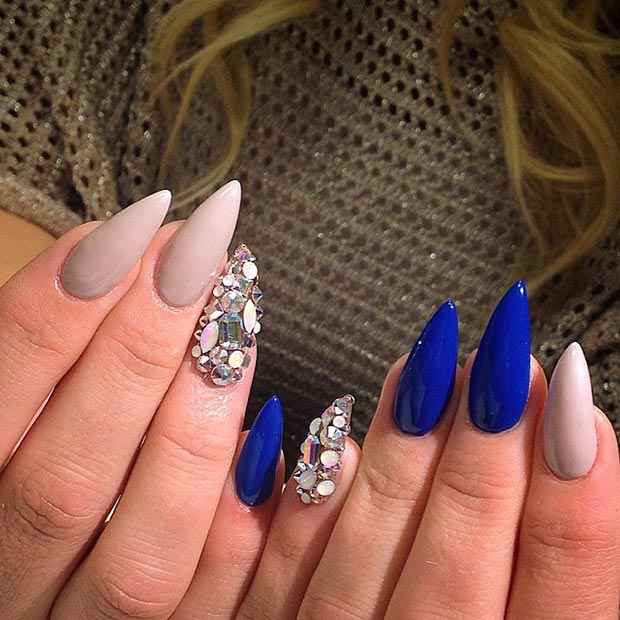 If we think about the blend of black and nude then it sounds like what. But watch this and you will realize that you were so wrong. This combo is looking amazing in these nails. Just love it.
Nude with Tribal Accent Stiletto Nail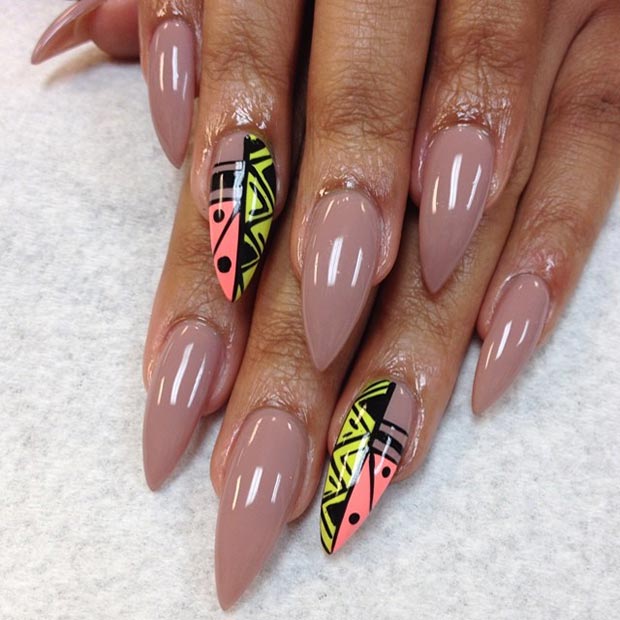 Nude color goes with any skin tone whether it's white or black. You can have it anyways. It looks amazing with all your dresses as well as for ever festive occasions.
Louboutin Inspired Stiletto Nail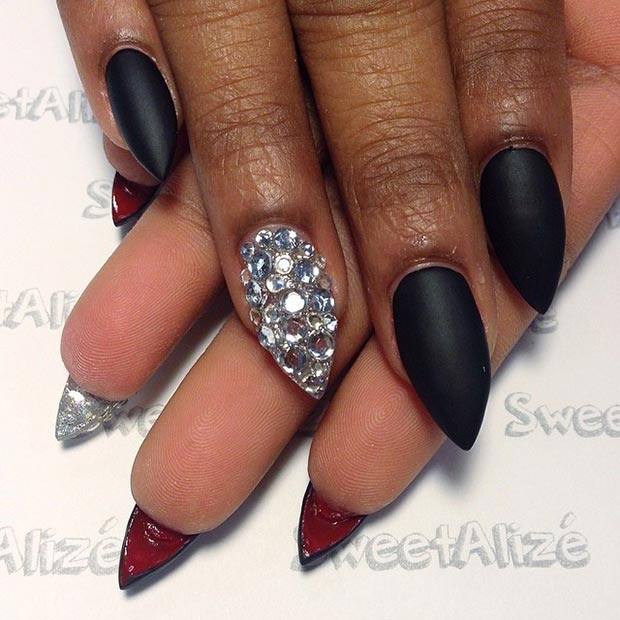 Because of its red bottoms its called Louboutin nail design. While adding these bottoms you need to careful it's not that easy as you think. You need to be patience. To enhance it more you can combine them with stones and glitters as well.
Ombre Stiletto Nail Design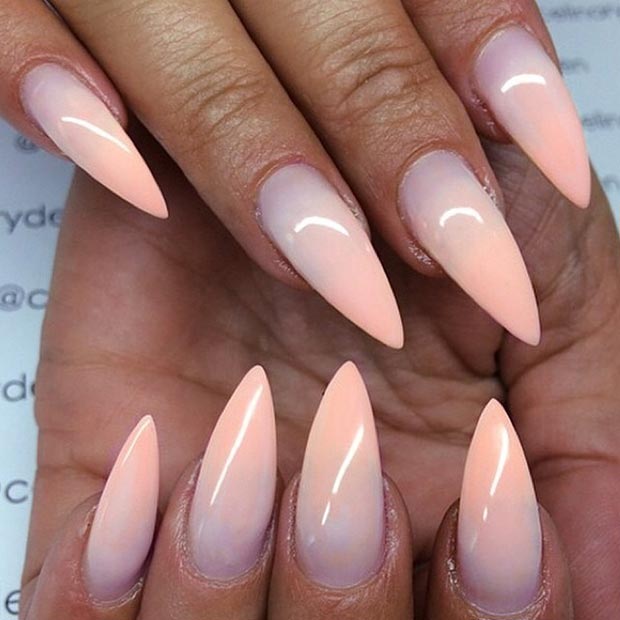 Ombre style is totally unique. In this design, we will get to see shaded nail paints and looks really gorgeous on everyone. You can use them mainly with hot shades.
Nude with Stones Stiletto Nail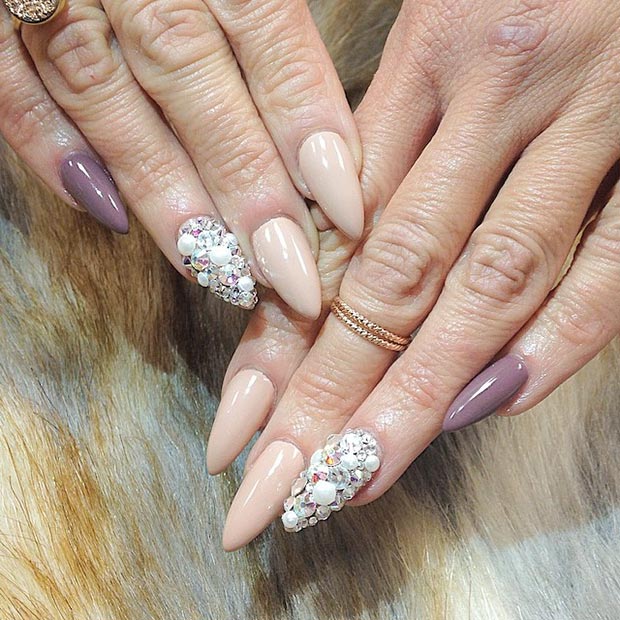 Are you one of those who love to have an embroidered nails? Then this design is perfect for you. This design not only adds charm to your nails but also go with any seasons.
Blue White Stiletto Nail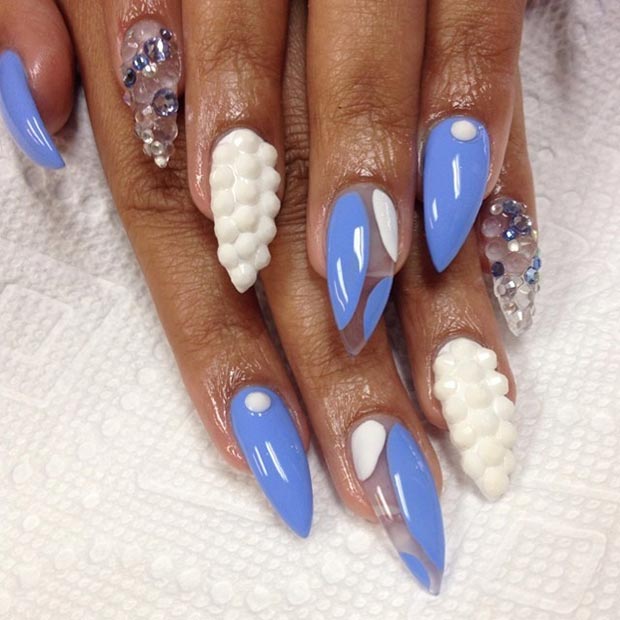 Blue and white makes an amazing match. Not only this, you can capture everyone's attention towards you. So, have it and look beautiful.
Black with Gold glitter Stiletto Nail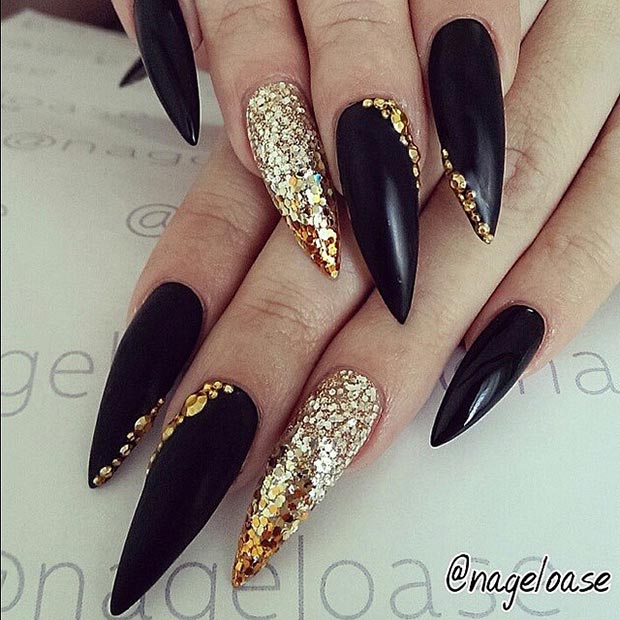 Going for a party and confused what to design on your nails. Then I have a perfect solution for you. You can use black with golden glitters and flaunt your nails.
Nude with Rhinestones Stiletto Nail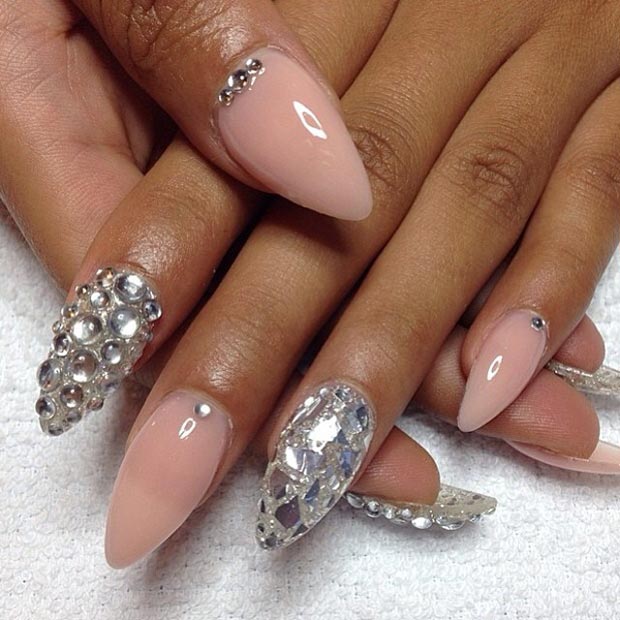 Some design just beautifies your nails but this one will enhance your whole personality. After having it you can't stop looking at them.
White Matte Stiletto Nail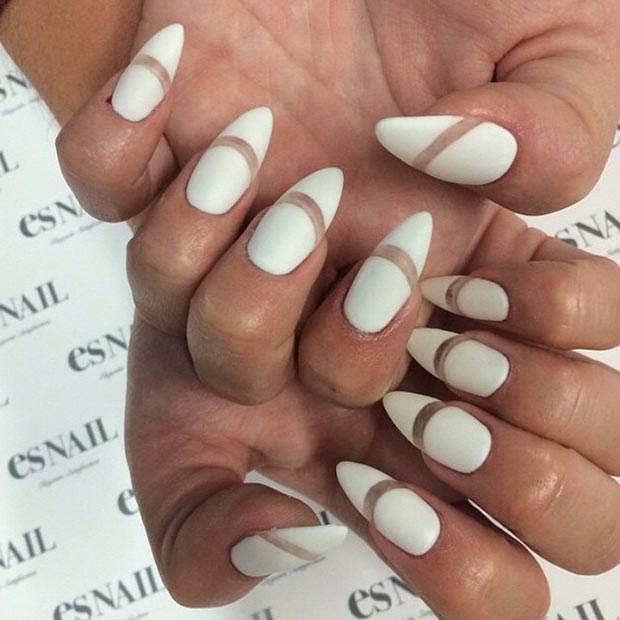 Matte is so in trend. You can design your nails with white matte having space in between. This will present you a different outlook. You will not only be satisfied but will feel beautiful.
Galaxy Stiletto Nail Art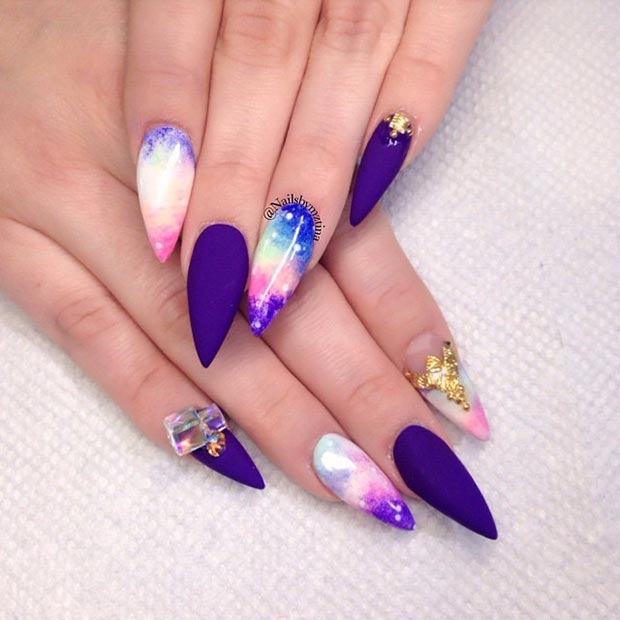 Looking at this design, you will feel it's quite difficult. As the texture seems so adorable and done with detailing. But when you try it using tutorials then you can have them in no time.So, practice them you will reach to it.
Bloody Red Stiletto Nail
The color red is loved by all women. With red stiletto nails, you can have a gorgeous and amazing nails. And if you want you will appear stunning in the mass. So what are you waiting for, just do it.
Almond-Shaped Stilettos Nail
Combination of black and blue will give you an authentic look. You can have them on any events or occasion you like. And on summer you can get most of it sitting around beach.
Purple Stiletto Nails
This design is for choosy woman. Purple color is for those women who seems powerful and urge to do something unique. This stiletto design signifies confidence in you. So do you have that confident?
Stiletto Nail with Flowery Tips
On summer, if you are bored with same old design. Then for a change have a look at this combo. This design allows you a subtle look and you can have them at office or any other events.
Pastel Pink Stilettos Nail
If you are interested in having a different design then you are at the right place. This blend doesn't sounds nice but has a look it seems so elegant and make it worthy with your summer outfits.
Heart Design Stilettos Nail
In any color, heart design looks lovely. If you are not fascinated with loud design then you can easily have this design. Black colored hearts with blue color in between can create wonders. Its perfect for you, just make an effort to do it.
Nude with Glittery Green
For stiletto nails with simple looks this design is correct for you. If you want your nails to appear stylish then have a look. It is simple but an elegant design to have.
Matte White Stiletto Nail
Those who love to be different than other will like this design. Matte stiletto nails seems pricey. To enhance it more you can add some golden glitters to its ends.
Stiletto Design with Black Borderlines 
If you adore stiletto nails but do not want those loud design then, pick this design. Its not only simple but attractive too.
Eye Design in Light brown 
You should always be careful while choosing your colors. And this one is amazing blend. On light brown you can have printed eye design. It gives you a splendid glance.
Fuchsia with Green Glitters
For special occasions like wedding celebration or any party you can include this design. With glitters you don't need to put any accessories. You will glow through your nails.
 Pink & Turquoise
Trust me the merge of matte turquoise and deep red works like water and sugar. This combo not only looks good but adds a unique shine as a whole. With this design, you should be confident enough to hold it anywhere you go.
Lion-King Stiletto Nail
Lion defines of a strong personality and it looks great on those who are brave enough.Nail design with lion seems somehow odd. But when you will add them it looks simply out of the box.
Cherry Red Stiletto Nails
This color defines personality of women. Cherry red color is used by those who stand out in the crowd with no boundaries. The color itself is a daring one.
Black Stiletto Nails with Golden Design
At all times, black and golden has a different chemistry. If you are an artist then this design is perfect for you. Including these artistic portions your nails will appear chic and refined.
Luxurious Stiletto Nails
Want to grab attention then all you have to do is design your nails with glitters. It not only makes your nails look classy but mesmerize your outlook too. This design will speak about you and you all have to do is enjoy.
Stiletto Nails with Diamonds Stiletto Nails
If you are a fan of stiletto nails, then try this one. At first appearance it may look loud. But at the same time it looks so glamorous. Girls beside you will be jealous seeing that. So carry it with grace then no one can stop you.
Pure Pink Stiletto Nail
Don't get upset if you have short nails. You just have to add a nail color. I choose pure pink which will help your nail to look long. It will not only appear elongated but give you an authentic glance.
Shades of Pink Stiletto Nails
Can you imagine your nails painted with different shades of pink? But yes you can have them designed in your nails. It's an unbelievable combination with the touch of glitters. It will look marvelous on you.
 Sparkle Black & Fuchsia Stiletto Nails
Stun the crowd with Black and fuchsia color combination on your nails. It not only stands out but also grabs attention of all. You can also use them while going for a party.
White & Glittery Gold Stiletto Nails
If you are soon to be wife or a bride then this design is for you. The white and gold color suits on every skin type. So, for this nail art you just have to use matte while nail paint with golden glitters. With that you are ready.
Royal Green & Golden Stiletto Nails
This color is not so admiring. It depends on you. The color looks splendid when you add an element of golden.
 Coral Stiletto Nails 
I don't think anyone out there don't love coral. They are adored by everybody. Use them for your stiletto nails and you will feel overwhelmed with the design. You can also include a bit of golden color which will beautify your nail patterns.
Red Rhinestones Stiletto Nails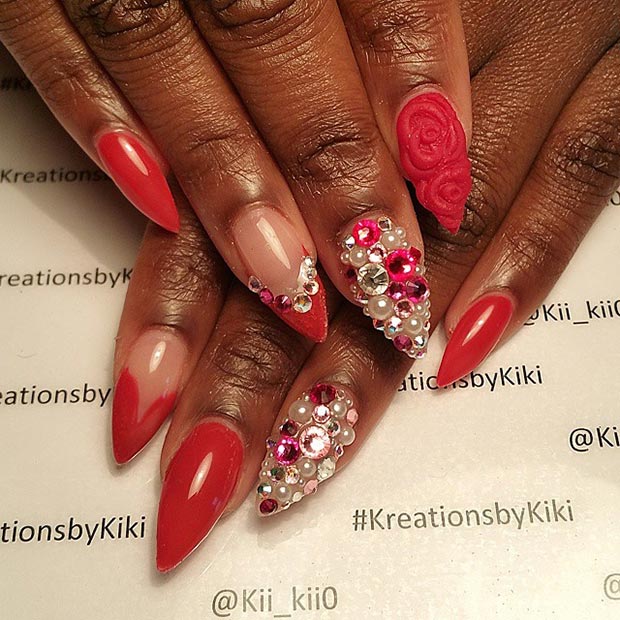 Red is so women color and it looks really sexy. Having this color they feel so relevant. This gives them feel of their womanly nature. You can have this design at any season and in no time.
Pinkie Accent Rhinestones Stiletto Nails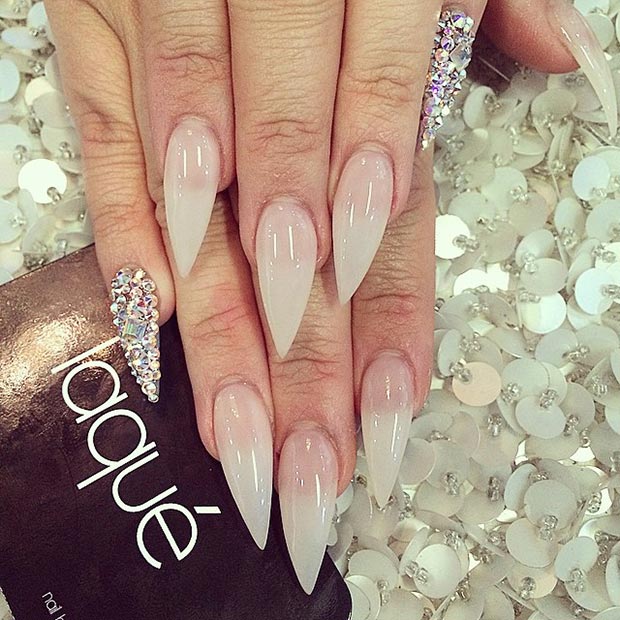 Stiletto nails are gorgeous on their own. When you add colors and design then they enhances its beauty. But that doesn't mean you can use design as much as you want. Don't do that. It may look messy so be alert.
Burgundy with Pearls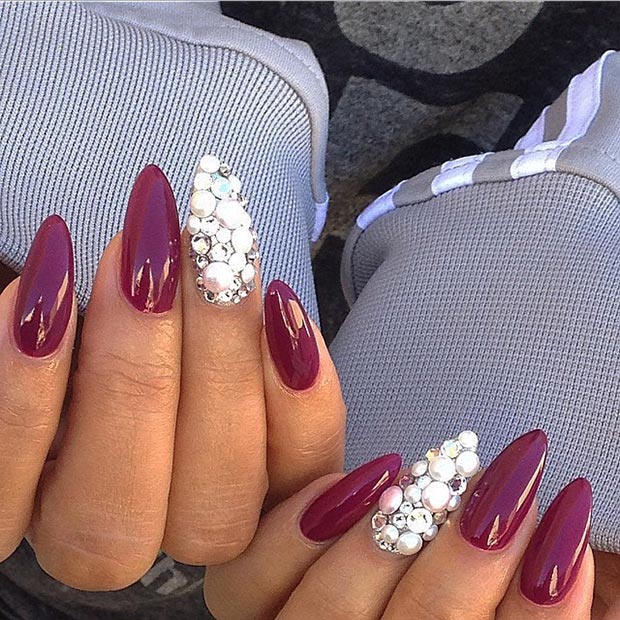 This nail color is enough for stiletto nails but including stones and glitter in to creates a magic. You can also hand print on your Burgundy nails if you want. It will make your nail look prettier.
Black Matte Stiletto Nails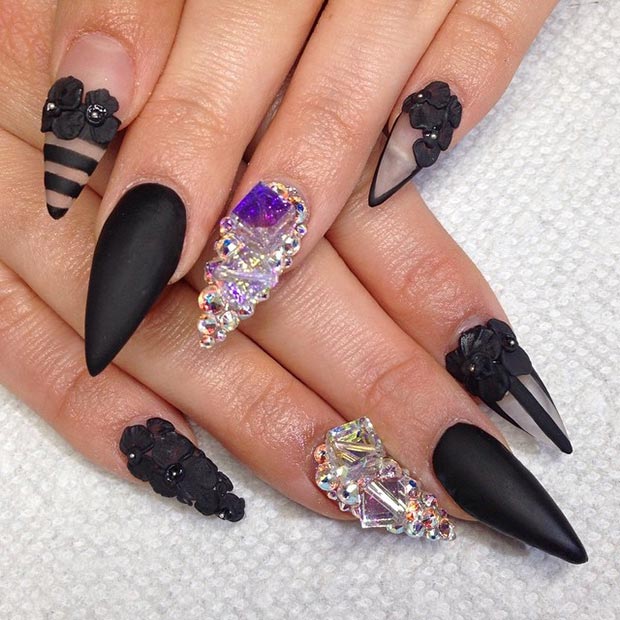 Matte is a trendy fashion in recent days. When they are on nails their effect is magnificent. You can also imply them with stones and beads but its up-to your choice.
Purple Matte Stiletto Nails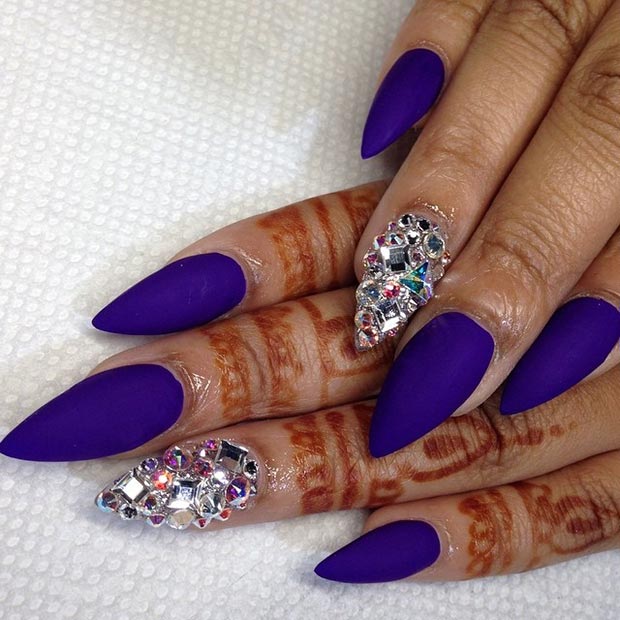 Spark your nails with some rhinestones on your purple matte. It will give you a great finish and rock visually too.
Colorful Matte Stiletto Nails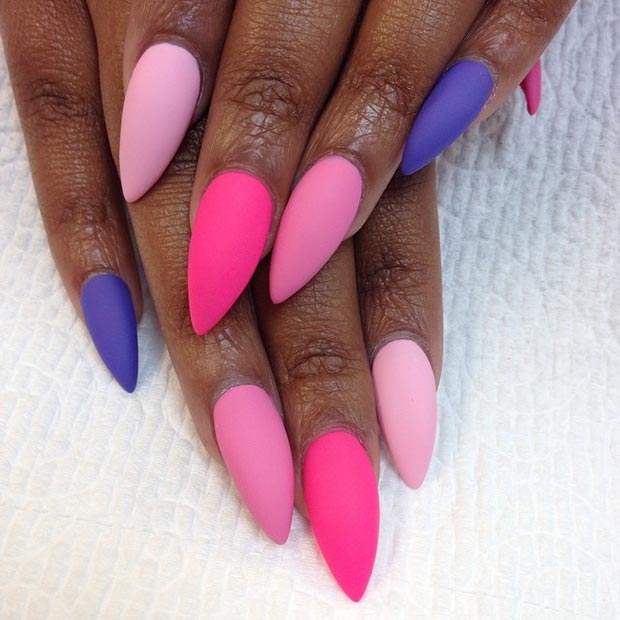 Don't know how to design your nails. No problem, simply color your nails with different shades of matte according to your wish. With this you can still charm the mass.
Dark Brown with Stones Stiletto Nails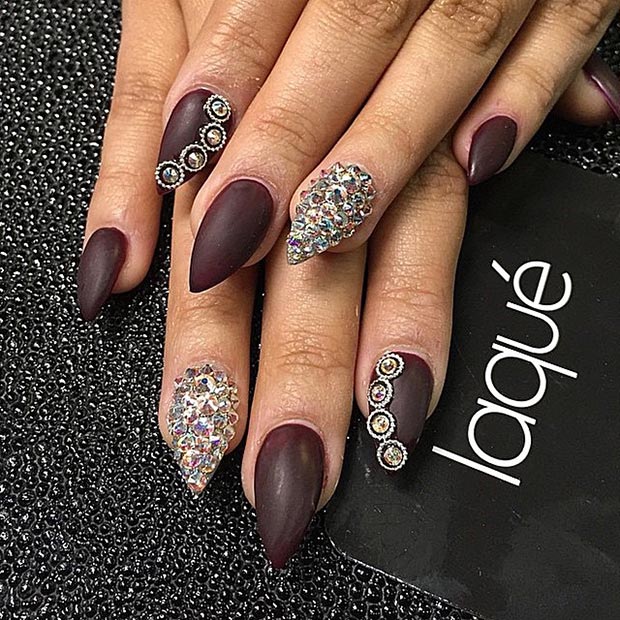 Want to have something smoky. Then let's do it. Just paint your nails with dark brown nail color and then for different feel add some beads and stones. It will not only be suitable for special occasion but also on casuals' days too.
Grey and Burgundy Stiletto Nails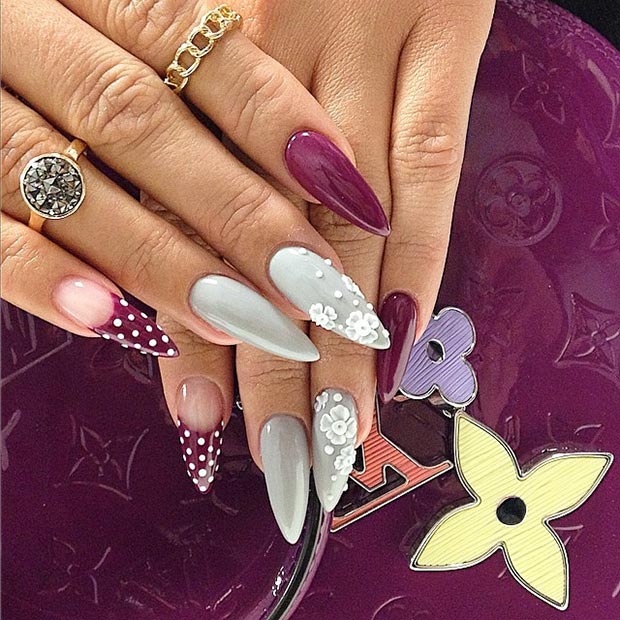 Try this blend and after this you can't keep your eyes away from your nails. Grey and Burgundy compliment one another and give you a subtle look.
Black and Nude Stiletto Nails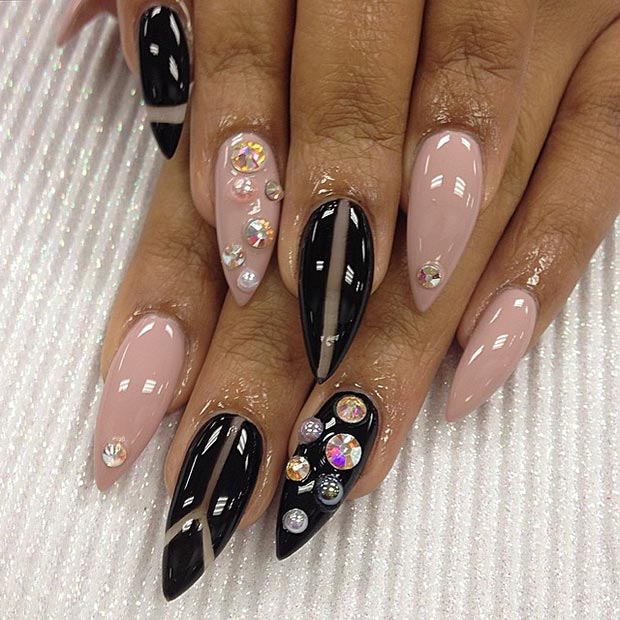 It's not compulsory to have the same mixture. You can choose another but the design you can afford to miss. This design is so in fashion. With this you can go anywhere you want.
Baby Blue Stiletto Nails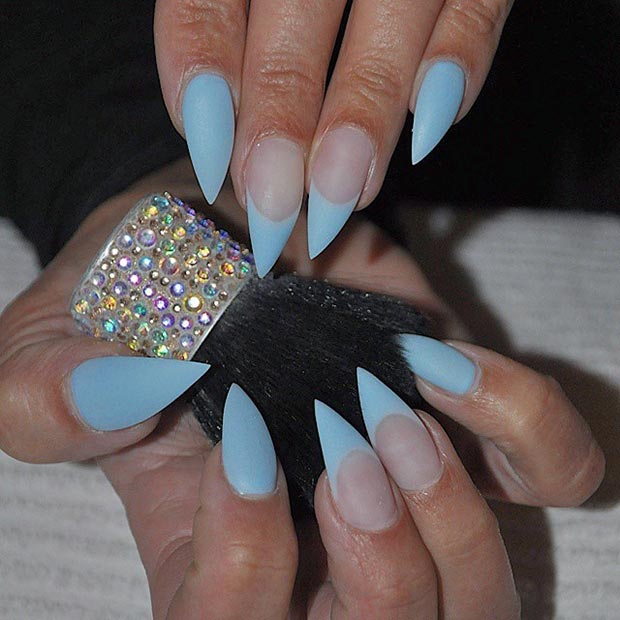 Stiletto nails and matte have been remarkably incredible. When you blend then you always get a great effect on your nails. You will never get chance to be upset. So go for it.
Black Hearts Stiletto Nails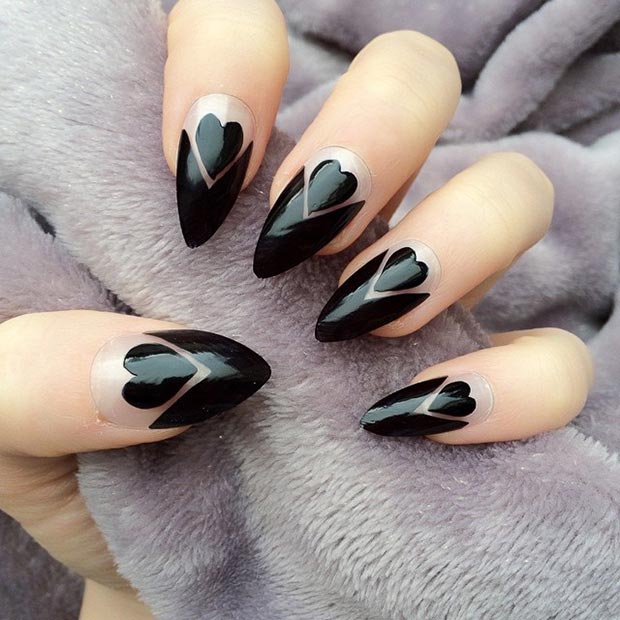 With one color, you can get an effective design. You just need a black color and add hearts on to your nails. This simple design can go with all your outfits and at all places.
Neon Pink Stiletto Nails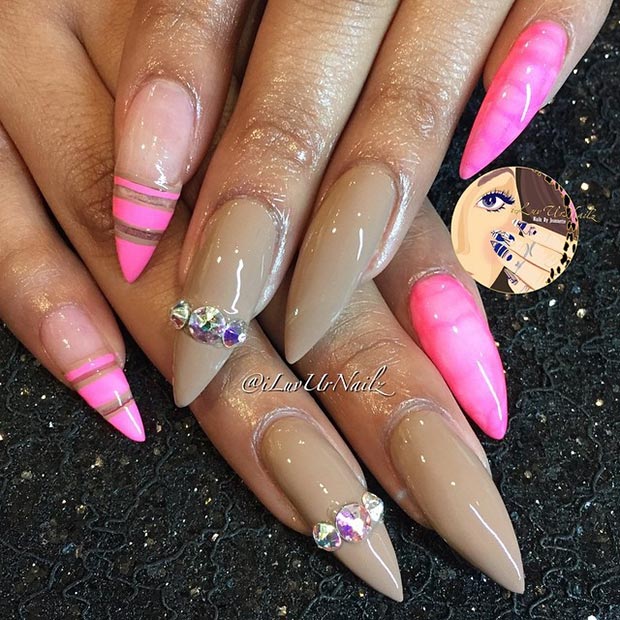 For a change from hand printed design to stone works, if you are searching for unique nail art, then this one is for you. This design is slightly different in shape. It gives you a vibrant environment.
Matte Pink with Blue Stiletto Nails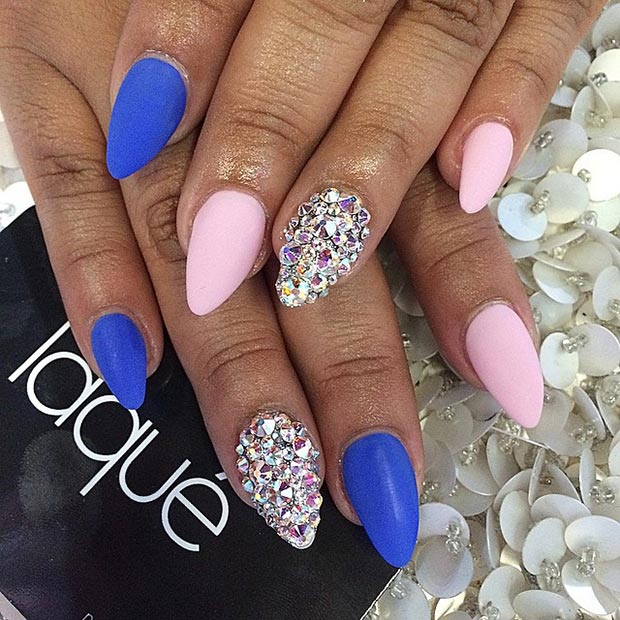 When you have nail designed with matte and rhinestones then you don't need to wear accessories. Simply, this design will lift your persona with unique style. Go and make this style yours.
Owls Stiletto Nail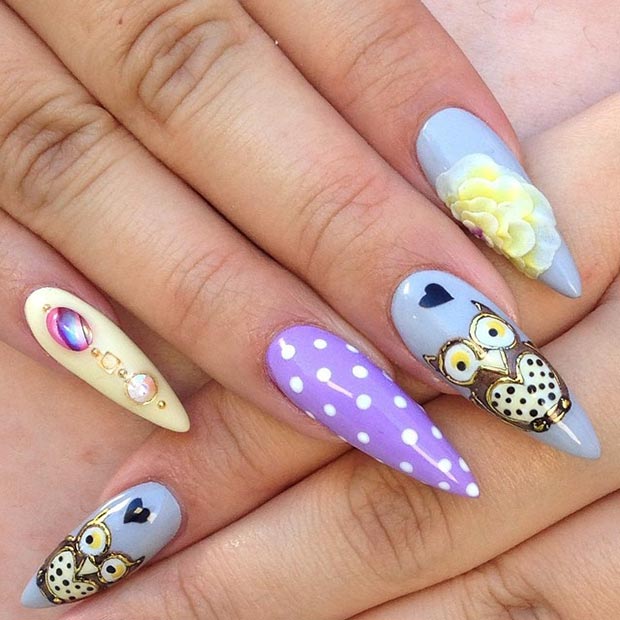 Stiletto nails with no design doesn't looks good. So add a design, you can have colorful owl designs to enhance your nails. With that you can attract the mass towards you.
Black & White Stiletto Nails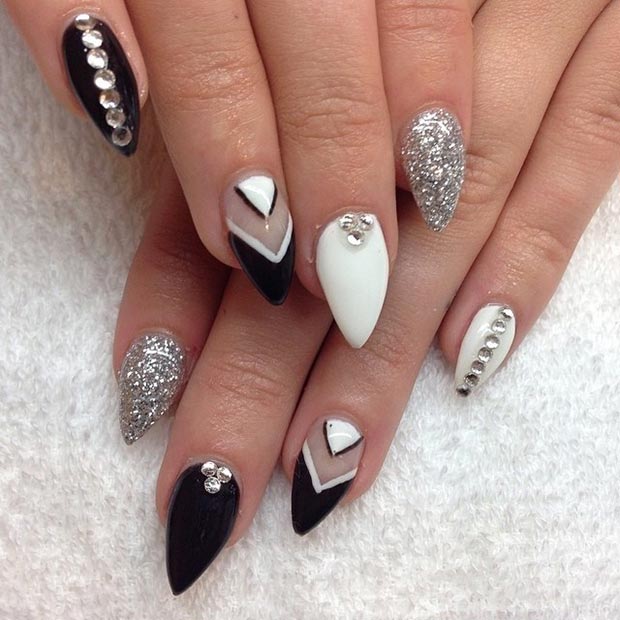 This combo is loved by all. It can be in dresses or in our nails. You can create different design with this color. The design gets more divine when you add some stones and glitters on them.
Matte Neon Pink Stiletto Nails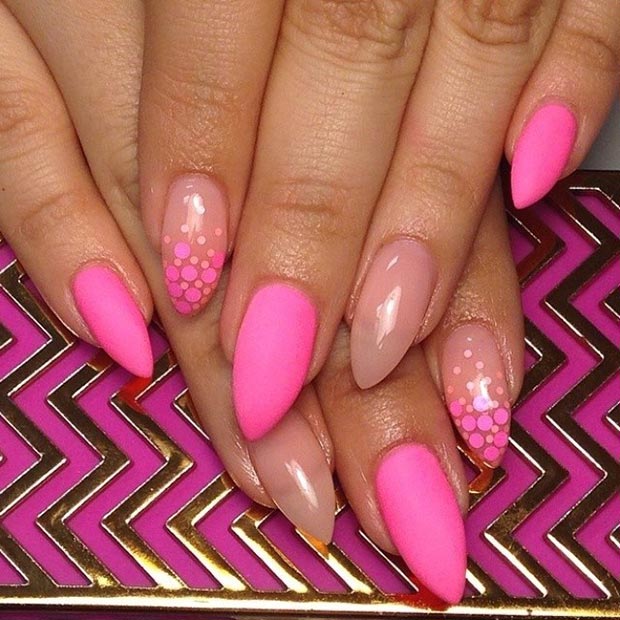 On summer, if you want to design your nails. Then with your eyes shut you can try this one. The blend of neon pink and nude will spark your nail with elegance.It suits on everyone. You must try!
Nude with Rhinestones Stiletto Nails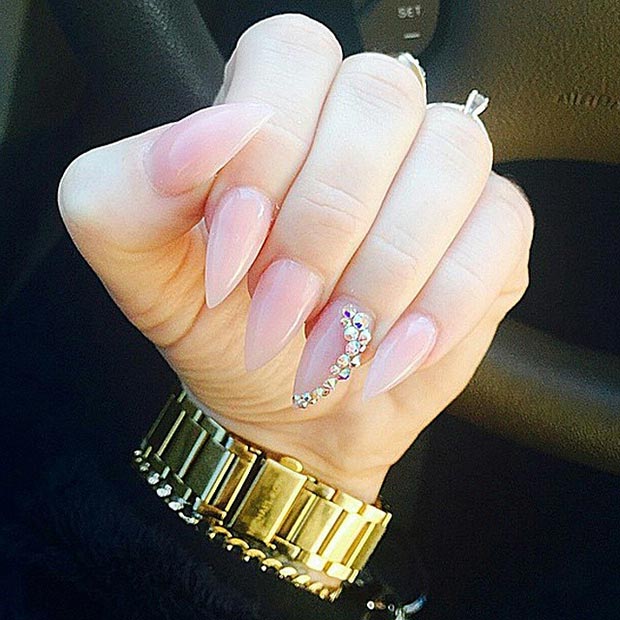 Looking for simple look, you can try this one. It's perfect for you. With a plain design and some rhinestones this design can give you a classy environment. So, grab it and kill your enemies with these adorable designs.
Matte Beige with Golden design Stiletto Nails
Want clean and subtle nail design, then go for matte it looks gorgeous. Beige when mixed with golden, it creates wonder. If you haven't yet tried then follow this design.You will surely love it.
Mermaid Nail design with Ombre Accents Stiletto Nails
When you see colors like pastel pink and blue, we in one look gets attracted. Everyone gets fascinated with these lovely colors. The finishing touch of golden charms the whole look. It appears extremely beautiful.